ISO 9001:2015 Registered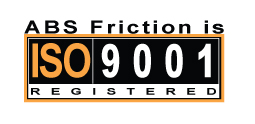 ABS Friction is proud to be an ISO 9001:2015 registered company.
We strive to be the best friction product provider we can, and to support that goal, ABS has established quality objectives through close cooperation with our staff, customers and suppliers. We continuously evaluate our Quality Policy and Objectives to improve our processes which results in products of greater value, product delivered on time and product free of defect.
What is ISO 9001:2015?
ISO 9001:2015 is a standard that provides a set of standardized requirements for a quality management system, regardless of what the user organization does, its size, or whether it is in the private, or public sector. Requirements include:
a set of procedures that cover all key processes in the business;
monitoring processes to ensure they are effective;
keeping adequate records;
checking output for defects, with appropriate and corrective action where necessary;
regularly reviewing individual processes and the quality system itself for effectiveness;
facilitating continual improvement
A company or organization that has been independently audited and certified to be in conformance with ISO 9001:2015 may publicly state that it is "ISO 9001:2015 certified" or "ISO 9001:2015 registered."
Please visit ISO (International Organization for Standardization) for more information at:
www.iso.org