Home
>
About Disc Brake Pads
Disc Brake Pads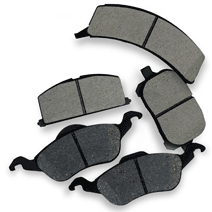 100% North American made ABS disc brake pads are formulated to provide ultra smooth braking, fade resistance, and safe, sure stopping power at equal to or better than original equipment quality. Each and every ABS pad is molded at our Guelph, Ontario, Canada manufacturing facility to ensure premium, reliable products each and every time.
Your safety is our main concern. We at ABS manufacture our products to the most stringent of quality standards as we are an ISO 9001:2015 registered, ISO 14001, OHSAS 18000 and BEEP® compliant manufacturing facility. Manufacturing quality, safe and reliable products is our #1 focus.
ABS is FIRST to market. ABS is FAST execution. ABS has FULL line coverage.
Shimmed, slotted and chamfered for quieter performance and to OE specifications, ABS Friction produces application-specific customized formulas to suit your specific needs.
Design
your own
private label friction program using our quality formulations:
> Ceramic
> Premium Semi Metallic
> Severe Duty