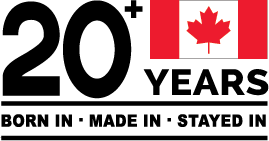 The story of ABS can be summed in the our 20th Anniversary slogan "Born. Made. Stayed".
When your product is manufacturing a brake pad, there is no margin for error. People depend on our commitment to excellence to keep their family safe. Your safety is our #1 job and a responsibility we take very seriously.
Throughout ABS Friction's 20-year history we have played a leadership role in the automotive aftermarket industry both in our product development and the ongoing participation of our Co-founder, President/CEO Rick Jamieson on various industry boards and organizations.
Born (1995-1996)
ABS Friction began in Guelph, Ontario in 1995, once the heart of the automotive aftermarket. Right from the start excellence was the path we choose. Our first significant purchase was a unique piece of machinery, ahead of its' time and our competitors. This specialized equipment provided Joe Schmidt (Co-founder, Director of Research & Development) and his team to create and manufacture products that met his high standards. It was this initial commitment to quality that set the bar and was ultimately instrumental in creating an unrivalled reputation for ABS Friction.
As we celebrate our 20th anniversary this year the truth be told, looking back on that first year we didn't know if we would survive past 6 months. Building our customer base in those early days was a difficult and daunting task. We knew our products were world class and, and considered the lack of returned products and customer complaints, affirmation that we were on the right track. Over time, through hard work, cooperation with our suppliers and unbridled optimism our sales began to grow.
Made (1996-2006)
Our first export of brake pads was to a customer in Puerto Rico in September 1996, and after that sales steadily began to rise. In 2002, as business improved, and as a further commitment to excellence, we set up a fulltime research and development department that is still in operation. Today, ABS manufacturers more brake pad references (1880) from a single factory in Guelph, Ontario than just about anyone else in the world. While others may have a slightly larger range no one does it from one location and they certainly can't ship it from the same location.
Between 1996 to 2000 ABS grew exponentially as our export business continued to expand internationally. During this critical juncture a large U.S. venture capital group attempted to consolidate ABS with a number of other aftermarket companies but it was quickly evident the synergies were not what everyone hoped. Rick Jamieson, and his wife Dana, stepped in to save the company in November 2006, ensuring ABS would have a long-term future and jobs would stay where it all started, in Guelph!
Stayed 2006 - Present
With our original management now back in place, we remained loyal to our smaller customers and continued to export our products, still manufactured and distributed from our Guelph facility. Up to this point ABS' reputation was built as a private label manufacturer and exporter. In seeking out new markets and growth opportunities, Canada became our new market focus and with it a new marketing strategy. To sell into the Canadian market we decided to create our own Canadian brand and that's exactly what we did. We launched IDEAL® Brake Parts in 2009 and in 2011, Silencer® Brake Pads debuted.
However, the decision to create our own brands was not strictly sales related. Since ABS started we had always been driven by the health and safety issues around the materials used in brake pads. In fact, we were unable to confidently identify another brand that did not use hazardous materials. Long vocal about the dangers of cheap brake pads and the use of asbestos, we have never used asbestos and considered ABS products to be environmentally friendly, so we knew we could create a trusted brand name that both customers and technicians could quickly identify and equate with safety, both on the car and in the workshop.
On December 15th 2016, the Canadian government announced it will move forward to fulfill its commitment to ban asbestos and asbestos containing products by the year 2018. While the ban is long overdue, we are thankful it will finally happen.
The ban does not take effect until 2018, so there is a continued opportunity to raise and increase awareness around asbestos. We've been shocked at the alarming number of mechanics who believe asbestos had already been banned. Until imported brake pads with asbestos are banned two years from now, ABS will continue to communicate the dangers of asbestos to the automotive community.
ABS is certainly in it for the long haul and proud two decades later to have stayed where we began in Guelph.